Steve Magness and Brad Stulberg's work on passion and "pushers" has opened my eyes to the dark side of of high conscientiousness behavior.
Some of us turn everything we do into an assignment for ourselves that must be completed or else we are letting ourselves down.
This is the type of thing that results in business owners like Dave Teare of 1Password working so hard that they forget things in their actual lives like turning off the stove.
That results in athletes in endurance sports like marathon runners and CrossFitters exercising until their bodies betray them and their entire stress response physiology gets so dysregulated that they can't sleep, can't focus and have to stop working out.
This is the type of thing that results in accumulating 450 saved long-form articles in your Instapaper account and also saving all of the email newsletters that you haven't gotten around to in a separate folder (I think there's 386 to go down from like 1200) over the course of years of running a small business – and actually having a plan to get through all of them. [Hint: It me]*
And – I'm currently staying at the Ritz Carlton in Cancún for a friend's wedding, and I couldn't help but notice that they have an Ironman class on offer as part of their regular fitness programming.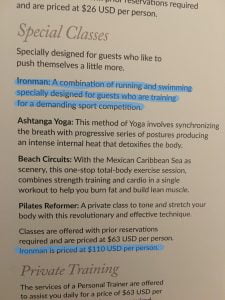 You know, for all of the folks who work hard enough in their careers that they can stay at places at the Ritz-Carlton but – goddammit – have an Ironman in 10 weeks and are not going to let this goddamn vacation throw off training.
Push on, pushers.
*I figured out that Pocket has a pretty reasonable text to voice option that allows you to listen at 2.5x speed. After making it through the hundreds of bookmarked videos I've accumulated, I've shifted my focus to these articles. Ridiculous.