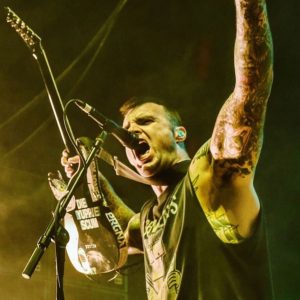 Given that Josh has already told the tales of being kidnapped in Egypt and playing one of the first shows that an American hardcore band in Kenya has played, I was worried that he might not have any stories left for me when he agreed to do this interview.
Never fear. Josh delivers the goods – and this is probably the hardest I've laughed during any podcast that I've recorded.
Josh has been a full-time touring musician with bands like Evergreen Terrace, Casey Jones, Stick to Your Guns and Eighteen Visions for many, many years. In his spare time, he often travels to countries with unstable governments. As such, he's accumulated a lot of hilarious stories.
When Josh is in Chicago, he stops in at South Loop Strength & Conditioning to train, so it's always a treat to get to chat with someone who likes the two things that I like: heavy music and extreme fitness programs.
In this conversation with Josh, we discuss:
The long-lost art of digging for information on bands – and how this affects the way that people consume content in the digital age
Why Stick to Your Guns regularly goes on tour with bands that they don't sonically "fit" with – and the trade-off between large upside for taking risks and the failures when those risks don't pay off
How to force yourself to adapt by constantly putting yourself in uncomfortable situations (like traveling in Egypt, Kenya and Tunisia) – and how Josh balances his desire for control with pushing outside of his comfort zone
How Josh accidentally ended up on CNN throwing rocks (Hint: It's hilarious)
Check out the conversation at the links below – and share with your friends if you enjoyed it!
Note: There was an issue with Josh's mic during the first 10 minutes or so of the podcast. We caught the issue and fixed it – and I did a little bit of post-production management to adjust the levels – so just skip the beginning part of the quieter audio is annoying. Apologies for that!
Listen Here
Or stream here:

If you're enjoying the show, why not a leave a review? It makes a difference in terms of other people finding the show.
Check out more from Josh here:
Show Notes
[01:00] Working out on the road – and some perils of awkward men working out
[07:21] Josh's first "real band" (Evergreen Terrace) and growing up in punk music – including buying a Misfits shirt without knowing who the Misfits were
[10:53] The mic is fixed!
[11:17] The process of digging for bands as a child in the pre-internet era (thanks lists, interviews, zines, etc)
[15:19] Joining 18 Visions and Stick to Your Guns
[19:55] Purposefully blending genres on tours – and the struggles of playing to an audience that isn't into you as well as the upside of catching an all new audience
[32:44] How does Stick to Your Guns write new music while keeping in mind the expectations of fans who like their previous output?
[41:43] When is the last time you moshed?
[45:04] "I want to be a janitor at a mall or something like that" – and being forced to learn an instrument by your mother
[49:09] Going on crazy adventures in countries without stable governments – and the learning that occurs from being in unfamiliar situations
[56:34] Accidentally ending up on CNN throwing rocks
Links and Resources Mentioned
You May Also Like These Posts
Did you like this post?
Learn about new ones when they come out.