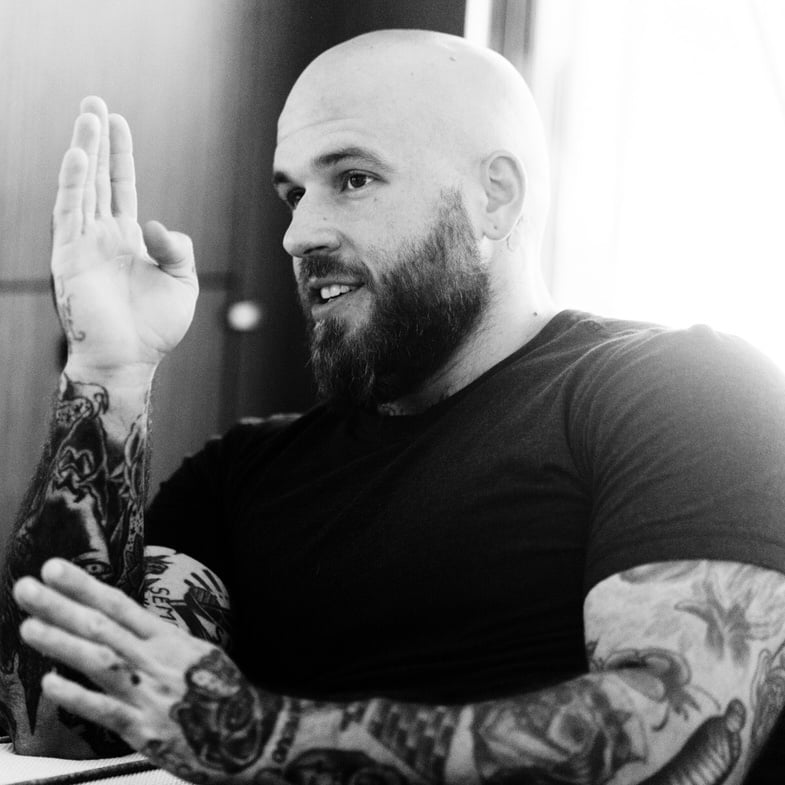 You know when you're walking through the airport wearing a CrossFit shirt and you see someone else in a CrossFit shirt?
Or when you're going about your business at the grocery store wearing a Morbid Angel shirt, and someone down the aisle has an Incantation shirt on?
Well, maybe you don't know that feeling of t-shirt related camaraderie and acknowledgement, but rest assured that I do.
As we discuss in this interview, Danny and I are often the two guys at CrossFit related events wearing punk or metal apparel.
When Danny told me that he liked my podcast, I was thrilled because if one of the only other people who owns a CrossFit gym in a major urban environment who grew up playing in bands in a DIY punk and hardcore scene didn't like my podcast…well then I don't know what the hell I'm even doing.
If you're not familiar with Danny, I'd recommend checking out this interview on Barbell Shrugged where he details his past battles with addiction and how he got into CrossFit.
He's also coached athletes like Samantha Briggs and Brenda Castro – and Team Soul has made multiple CrossFit Games appearances.
He is also the competition director for this coming year's Wodapalooza, so he will be architecting the programming for one of the largest CrossFit events in the world – this time with the opportunity to qualify athletes for the CrossFit Games.
In this conversation with Danny, we discuss:
Growing up in a real melting pot of a DIY punk scene in South Florida – and how that has both helped and hindered Danny in entrepreneurship
How staying true to his own taste (and trying to make Team Soul like a 90s skateboarding company) has resulted in raving fans…and some harsh detractors
How CrossFit Soul has seen the CrossFit bubble in South Florida pop – and why they're still standing while many others are not
Becoming involved in the programming for Wodapalooza – only to learn a few weeks later that Wodapalooza would be a sanctioned event sending qualifiers to the CrossFit Games
Check out the conversation at the links below – and share with your friends if you enjoyed it!
Listen Here
Or stream here:

If you're enjoying the show, why not a leave a review? It makes a difference in terms of other people finding the show.
Check out more from Danny here:
Show Notes

[01:28] Growing up in the South Florida punk scene – and the melting pot of genres including punk, hardcore, death metal, and pop punk
[14:27] Being in bands growing up – including a rap metal band (Danny did not rap)
[18:11] What influence has growing up in the DIY culture of punk and hardcore had on small business ownership? And growing up hating jocks.
[26:29] Starting a CrossFit gym and making a ton of mistakes – including bad relationships with business partners and purposefully not having a plan. Plus, surviving the consolidation of the market as more and more gyms are closing.
[34:50] What did Danny do to learn how to run a business and how to coach – without a formal background in either? How did he reach out to people and apply their insight to his own business?
[44:42] The genesis of the Wodapalooza Programming Collective – and Danny's role with Wodapalooza (including the changes to the CrossFit competition season)
[1:03:24] The art of the rip-off shirt

Links and Resources Mentioned

You May Also Like These Posts

Did you like this post?

Learn about new ones when they come out.