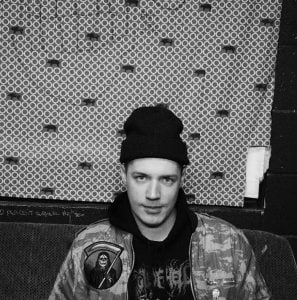 I first met Dylan at a show that I was booking probably back in 2011.
Just checked my e-mail, and yes – it was 2011. And Dylan was weirdly e-mailing me from Spencer's e-mail address. Have some boundaries, guys.
As a supporter of the DIY punk, hardcore, and metal scenes, I facilitated a subcultural event that involved doing a workout, playing extreme music, and feeding an apparently malnourished group of youths in Full of Hell some sort of enjoyable scramble of treats.
Since then, Full of Hell has gone on to become a force of nature. They blend grindcore, powerviolence, power electronics, and death metal in a totally cohesive (aka not post-modern jumbled mess) layered mess of aggression.
Full of Hell is an insane live band. Please observe:

And, if you favor such sounds, please also listen to their most recent album Trumpeting Ecstasy. I think it's really wonderful.
Listen Here
Check out Dylan and Full of Hell here:
Resources Mentioned
Show Notes
[2:30] Mrs. Doubtfire
[5:45] Traumatizing family pranks and recurring nightmares
[10:00] Folklore and archetypal stories – and their relationship to evolved instincts
[18:57] How Dylan got into extreme music – including punk parents and friends at school
[23:12] First meeting Spencer and Full of Hell
[30:19] In-group signaling behavior amongst extreme music subgenre fanatics
[34:00] Full of Hell's collaboration record with Merzbow
[38:02] Gateway bands and introducing fans to your own taste
[46:10] Regroup to discuss meeting Spencer and creating the current Full of Hell line-up
[50:22] Full of Hell's first tour – including show in Chicago with Like Rats and a CrossFit workout
[53:25] Full of Hell's creative vision: The harshness of the world and the coldness of human beings –
and the weight of all suffering
[1:02:32] Writing lyrics, writing vocal patterns, and making them a cohesive and integral part of the music
[1:10:00] Stories from touring with Immolation and the Cavaleras
[1:21:30] The creative process for the upcoming collaboration record with The Body
You May Also Like These Posts
I send out a weekly newsletter that includes any articles and podcasts that I've written and recorded, as well as other stuff (articles, podcasts, songs, etc.) that I've enjoyed. Sign up here to be added to the list.