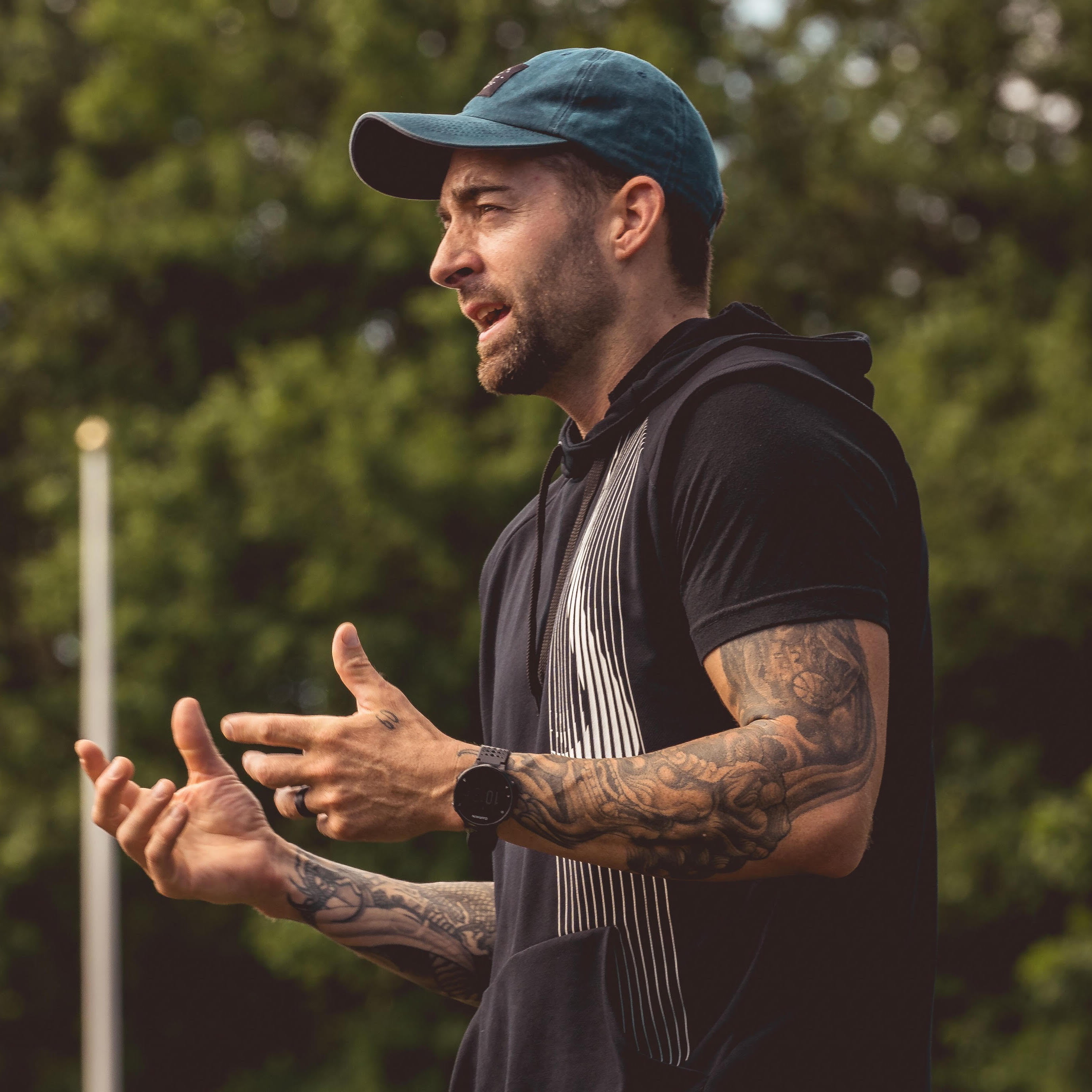 Jason Leydon of Conquer Athlete and CrossFit Milford is an elite-level CrossFit coach – and, much like myself, a continuing education junkie.
I'd been looking forward to this conversation, since Jason is not only very successful in his ability to develop athletes, but also self-aware about his frameworks for coaching and his process for learning new things and applying them in his practice.
Many well-known coaches are able to get great results from athletes, but can't really articulate how and why they do the things that they do.
Many other well-known coaches just happened to get lucky by having some freakishly talented folks walk through their doors, and have built careers on being in the right place at the right time without much actual knowledge.
Jason is the real deal, and he can articulate exactly what he's doing and why he's doing it.
In this conversation, we don't just hit the nitty gritty details of developing athletes (although there is some of that). We spend a lot of time on Jason's process for continuing to learn – and how he actually turns the things that he learns through books, seminars and courses into tangible results for his athletes and his coaches.
Check out the full conversation with Jason to learn:
How an identity-destroying injury started Jason on the path to coaching – and how he thinks about the psychology of athletes who have their identities wrapped up in their performance and their results
How Jason actually applies things that he learns from continuing education – and how he passes his knowledge on to his coaches so that they can actually apply it as well
How Jason thinks of the theoretical hierarchy for developing athletes – and how he picks what the top priorities are for his athletes in their training
Compliment with my conversation with Scott Young on Ultralearning for more on transferring knowledge from the abstract to the practical.
Check out the episode at the links below. If you enjoyed the episode, the best way to support the show is to share with your friends, so send them a link.
Listen Here
Or stream here:
If you're enjoying the show, why not a leave a review? It makes a difference in terms of other people finding the show.
Check out more from Jason, Conquer Athlete & CrossFit Milford here:
Show Notes:
[1:08] What's up with Jason's accent? Is this how people from Milford speak? And – the sudden and shocking end to Jason's basketball career.
[11:17] How to handle the sudden change in identity as an athlete who can no longer compete. And – the transition from athlete to coach, as well as the coinciding dedication to continuing education.
[20:21] How does Jason actually apply the things that he learns from seminars, books and courses? How does Jason think about solving tangible problems with the material that he learns – and how does he go about asking for help when something isn't clicking for him.
[25:36] Connecting the practical, in-the-gym application of concepts with the theoretical learning that occurs in books or courses. Outcomes are often messy, so how does Jason figure out what's actually working and what is just happenstance and chaos?
[31:14] How does Jason teach coaches who work with him to hold the same standard of coaching? Not everyone is able to learn from courses in the same way, so how does Jason pass knowledge on?
[37:00] How does Jason decide what his coaches need to prioritize in their coaching development? And, what lessons from learning to manage rowdy teens in a gym class are applicable to coaching adults?
[44:24] How does Jason manage the sport-specific needs of his competitive CrossFit athletes with their long-term development? How does a coach prioritize what an athlete needs to work on – and how does a coach create sustainability for an athlete in the sport?
[52:40] How to find out more about Conquer Athlete and the Conquer Athlete Podcast
Links and Resources Mentioned
You May Also Like These Posts
I send out a weekly newsletter that includes any articles and podcasts that I've written and recorded, as well as other stuff (articles, podcasts, songs, etc.) that I've enjoyed. Sign up here to be added to the list.