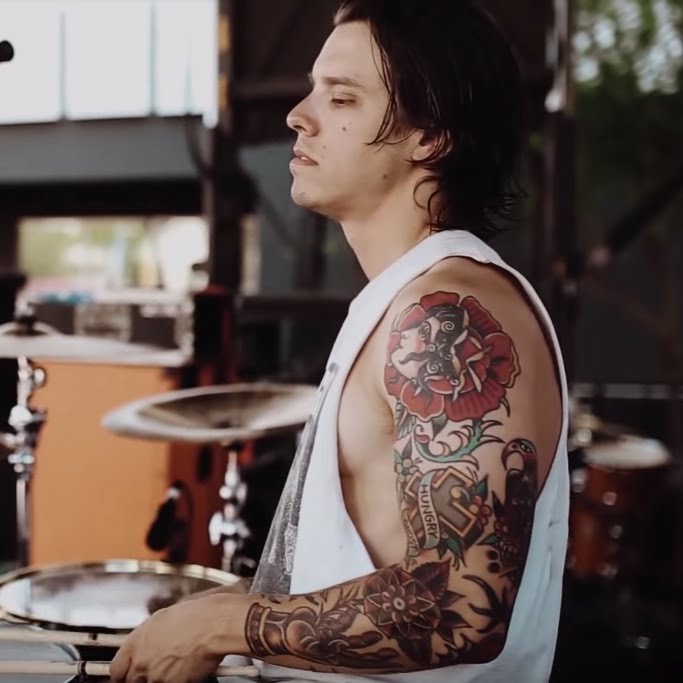 Chris Mills is the drummer for Harm's Way – and he's also a clinical social worker for an addiction and mental health residential program.
Many folks who are touring most of the year piece together random part-time jobs or have their hands in a few different pieces of the music industry (management, booking, merchandise, etc.).
Chris, however, is a highly trained professional in an extremely difficult field.
We dig into music nerd stuff about how Harm's Way writes songs – and how they think about the roll of "heaviness" and "rhythm" in their songs. And Chris also explains why he thinks that many of the models that we use to think about addiction are outdated – and what he prefers instead.
Check out the full conversation to learn:
Why Chris got into angsty nu-metal as an adult – and how that influenced his songwriting process
Why the most common models for thinking about addiction are outdated – and what methods Chris has found to have more success for patients
What is typically the biggest barrier to lasting behavior change – and why it's much harder to "stay sober" than to "get sober"
Check out the episode at the links below. If you enjoyed the episode, the best way to support the show is to share with your friends, so send them a link.
Listen Here
Or stream here:
If you're enjoying the show, why not a leave a review? It makes a difference in terms of other people finding the show.
Check out more from Chris and Harm's Way here:
Show Notes:
[01:08] Getting into nu-metal as an adult – and how that influenced the process of writing music
[08:31] Harms Way's change in sound was more "organic" in that the new riffs that they were writing started to sound different. And, how songs can be "heavy" without just focusing on the "breakdown."
[15:15] The album writing process: trying to create a cohesive work – and writing through jamming, building songs in practice, and grinding it out.
[26:02] The crappy practice space that Like Rats and Harm's way share.
[29:08] Working as a social worker in a residential program in the field of addiction and mental health. How does Chris prioritize what clients work on in terms of their biggest priorities in treatment?
[37:44] What's the difference between the 12 step model, the disease model of addiction, and a more behavior-based model? What framework does Chris prefer for treating his patients?
[45:42] Differentiating psychiatrists, psychologists and social workers – and understanding what is usually the biggest obstacle to creating lasting behavioral change?
[54:14] Harm's Way's history as a straight edge band, and how Chris thinks about playing in a band that often focuses on negative emotion in its art through the lens of a social worker.
[58:14] Harms Way's upcoming touring plans
Links and Resources Mentioned
You May Also Like These Posts
I send out a weekly newsletter that includes any articles and podcasts that I've written and recorded, as well as other stuff (articles, podcasts, songs, etc.) that I've enjoyed. Sign up here to be added to the list.