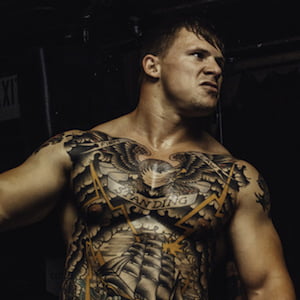 From the above photo, you may think that James is an intimidating and frightening man.
But, it turns out that he is one of the weirdest and funniest people I know.
It's difficult to appropriately categorize and convey all the disparate traits that exist in this enigma of a man, and hopefully this interview does his character justice.
Check out this discussion to learn about James's long-standing fascination with Fear Factory, the process of stealing riffs for Harm's Way songs, and how he trains for powerlifting while injured and on tour.
And check out Harm's Way's excellent Metal Blade debut "Posthuman" right here.
Listen Here
Check out more from James and Harm's way
Show Notes
[2:15] Being recognized by students while substitute teaching – and denying it
[10:19] The influence of metropolitan Chicago's melting pot of extreme music
[15:52] Learning about bands, digging in the crates, and becoming Youth Crew James
[24:26] Passing the torch from one generation of extreme music to the next
[31:04] Meeting Billy Milano from the Stormtroopers of Death
[34:27] The writing of "Posthuman" – writing riffs, writing transitions, collaborations amongst band members, and how to write songs when you can't actually pay guitar that well
[47:38] A treatise on stealing riffs
[57:38] A disagreement on nu-metal
[1:03:23] Training while touring – a change in mindset from maximizing performance to maintaining strength while working through injuries
Resources and Individuals Mentioned
Backtrack
Title Fight
Morbid Angel
Burzum
Slayer
Death
Famous Hulbert
Fat Wreck Chords
Metallica
Record Breakers
Gorilla Biscuits
Youth of Today
Minor Threat
Bane
Fireside Bowl
Angelfire
Soulseek
Audiogalaxy
Kazaa
Future
Hewhocorrupts
Kung-Fu Rick
Empire Productions
Weekend Nachos
Soulfly
Max Cavalera
Sepultura – "Chaos AD"
Billy Milano
M.O.D.
Madball
Cro-Mags
Peter Gabriel
Hate Force
Like Rats
Godflesh
Black Sabbath
Mercyful Fate
Triptykon
Celtic Frost
Kid Rock
Celtic Frost – Os Abysmi vel Daath
Jacob Bannon
Primitive Future: Tom Warrior Interview
Discharge
Battalion of Saints
Motörhead
Are You Morbid?: Thomas Fischer
Fear Factory
Slipknot
Prong
Machine Head
Iron Maiden
At the Gates
Insane Clown Posse – "The Great Milenko"
Biohazard
Jared Skinner
American Barbell Club
The Reverse Hyper
Jesse Norris
Peter Thiel
Joe Rogan Experience #1066 – Mel Gibson & Dr. Neil Riordan
Longmont Potion Castle
The Blood Brothers
The Locust
YMCA
You May Also Like These Posts
I send out a weekly newsletter that includes any articles and podcasts that I've written and recorded, as well as other stuff (articles, podcasts, songs, etc.) that I've enjoyed. Sign up here to be added to the list.