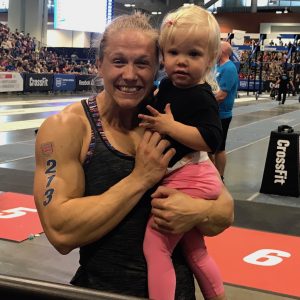 Michele Fumagalli just missed the CrossFit Games in 2015, and decided that she would be back in 2016.
But, life got in the way, and she discovered she was pregnant leading into the 2016 Open.
When she didn't qualify for Regionals in 2017 after getting back into training, she thought that her CrossFit dream was over.
However, she locked down a 4th place finish in one of the more competitive regionals out there securing her spot to the 2018 CrossFit Games as an individual athlete.
How was Michele able to qualify for the Games after having nearly given up on her dream – and having the additional responsibility of a family and a career as a registered dietitian?
Well, don't look to me for answers, but you can check out this conversation to hear:
How to experience repeated set backs and remain resilient – and how to not give up on your own personal dreams when you become a mother
The emotional play by play of being on the cusp of qualifying for the CrossFit Games in a highly competitive Central Regiona
How to develop a positive relationship with food – and avoid toxic all or nothing thinking
Listen Here
Or stream here:

If you're enjoying the show, why not a leave a review? It makes a difference in terms of other people finding the show.
Check out more from Michele and Fit Plate Nutrition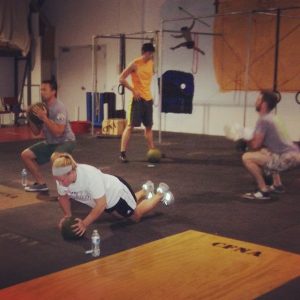 Michele doing a knee push-up in 2011
Michele showing off her flip throw skills as a professional soccer player.
Show Notes
[01:22] Getting your desk decorated like a high school teen's locker
[03:40] Just missing qualifying for the CrossFit Games, having a child, and coming back
[10:54] How do you balance the aspirational self that thinks you can do anything with the more realistic, rational self that recognizes limitations and obstacles
[14:33] Giving up on the competitive fitness dream – and doubting yourself coming back into training
[21:54] When did you realize you had an actual chance at making the Games?
[28:03] Which Games athlete has the fewest Instagram followers? And your dreams aren't over when you have kids.
[31:04] The drama of Event 6 – and being held in a "jail cell" for drug testing.
[41:03] Fueling and nutrition during Regionals
[47:30] Getting a nutrition coach as a registered dietitian and nutrition coach.
[52:14] Helping people understand their relationship with food
[55:47] Working with cancer patients on their nutrition
[01:04:16] Where to find out more about Michele
Links and Resources Mentioned
You May Also Like These Posts
Did you like this post?
Learn about new ones when they come out.