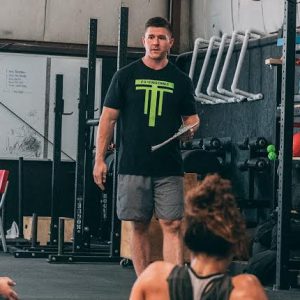 You certainly wouldn't accuse Mike McGoldrick of having an over-bearing sense of bravado, but he has achieved a trifecta of fitness business success that few other folks can match.
In 2013, he competed individually as a competitor at the CrossFit Games.
In 2016, he hosted Barbell Shrugged (one of the most popular podcasts in the health and fitness space) for a year.
And, he's also a coach at one of the most highly respected coaching organization on the planet — Training Think Tank.
So, what does Mike do that has allowed him to achieve at high levels in all of these different areas? How did an engineer become one of the fittest on earth, a podcast host, and a high level coach?
Check out this conversation with Mike to hear:
How he transitioned from devoting all of his energy to competition to devoting all of his energy to coaching – and how he now has found balance between the two
How he takes in information from research and books – and how makes sure he actually uses and applies the stuff he learns
What Mike learned from hosting the Barbell Shrugged podcast that he uses today to help him learn from experts
How he thinks of the role of content in the fitness business – and how Training Think Tanks finds the right balance between technical content and content that engages with their audience
Listen Here
Or stream here:

If you're enjoying the show, why not a leave a review? It makes a difference in terms of other people finding the show.
Check out more from Mike here:
Show Notes
[01:40] CTP's transcendent content vision
[05:56] McG's training journey from extreme devotion to competition to backing off – and finding a return to competition
[17:39] How do you balance competing and training with your ability to be hyper-analytical as a coach?
[23:52] How much do the athletes at Training Think Tank chirp each other? – and working around several world-class coaches
[35:05] Training breathing dynamics through inspiratory muscle training
[47:22] Does Mike miss the weekly content creation grind of the Barbell Shrugged podcast – and the role of content creation in fitness businesses
[57:02] How to learn effectively – and the trade-offs between taking in content and creating content
[01:05:01] Training Think Tank's new movement course
Links and Resources Mentioned
You May Also Like These Posts
I send out a weekly newsletter that includes any articles and podcasts that I've written and recorded, as well as other stuff (articles, podcasts, songs, etc.) that I've enjoyed. Sign up here to be added to the list.